| | | | |
| --- | --- | --- | --- |
| | The Story of Eric Singer | Three Time KISS Member | |
Eric as been very busy since his original stint in KISS. He has appeared on a few tribute albums, "Dragon Attack: A Tribute to Queen", "Little Guitars: A Tribute to Van Halen", "Not the Same Old Song & Dance: Aerosmith Tribute", "Return of the Comet" and "Forever Mod: Portrait of a Storyteller" pluse many side projects. In 2000 Eric was recording and touring with Alice Cooper on his "Brutal Planet" CD.

In 2001, Eric replaced Peter Criss on the Farewell Tour's Japan and Australian legs. He wore the "Cat Man" makeup and played in the "Peter Criss" style.

After the KISS Japan and Australia tour, Eric re-joined the Alice Cooper band for their European Tour through the end of May, 2001.

Eric rejoined KISS in 2004 when KISS and Peter Criss parted ways. The "Rock The Nations" tour will allow Eic to play drum his way, not "the Peter way."

| | |
| --- | --- |
| TIME IN KISS: | 7 Years (91-96 and 2001 and 2004 - ?) |
| Lead Vocal Debut: | 4/2/94 @ Villa Park, IL (Black Diamond) |
| Born: | May 12, 1958 in Cleveland, Ohio, |
| Real Name: | Eric Messinger |
| Other Gigs | Bill Ward, Lita Ford, Gary Moore, Black Sabbath, Badlands, Alice Cooper, Rod Stewart, Queen, Ace Frehley, and E.S.P. |
| Quick Notes | Appeared in the movie "A Nightmare On Elm Street 5: The Dream Child" as a Hot Seat Band Member. |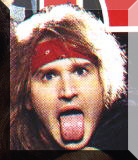 | | | | |
| --- | --- | --- | --- |
| | Images of Eric Singer | | |

| | | | |
| --- | --- | --- | --- |
| | Badlands | Released: June, 1989 | |
Former mid-'80s Ozzy Osbourne's guitarist, Jake E. Lee, decided to form his own band after he left Ozzy's band. Formed in 1988, Badlands kicked out a rougher, bluesier brand of metal than what Lee played during his years with Osbourne. This is the only appearance of Eric Singer with Badlands.

1. High Wire
2. Dreams in the Park
3. Jade's Song
4. Winter's Call
5. Dancing on the Edge
6. Streets Cry Freedom
7. Hard Driver
8. Rumblin' Train
9. Devil's Stomp
10. Seasons
11. Ball & Chain
| | | | |
| --- | --- | --- | --- |
| | Black Sabbath: Seventh Star | Released: 1986 | |
Never intended to be a Black Sabbath release, as the band had effectively broken up following their disastrous 1984 tour. Instead, it was originally conceived by guitarist Tony Iommi as his first solo project, but record company pressure forced him to use his old band's name at the last minute. This is the first "Black Sabbath" album with Eric Singer.

1. In for the Kill
2. No Stranger to Love
3. Turn to Stone
4. Sphinx (The Guardian)
5. Seventh Star
6. Danger Zone
7. Heart Like a Wheel
8. Angry Heart
9. In Memory...
| | | | |
| --- | --- | --- | --- |
| | Black Sabbath: Eternal Idol | Released: 1987 | |
Eric Singer's second, and last, "Black Sabbath" album featured an unknown singer named Tony Martin.

1. The Shining
2. Ancient Warrior
3. Hard Life To Love
4. Glory Ride
5. Born to Lose
6. Nightmare
7. Scarlet Pimpernel
8. Lost Forever
9. Eternal Idol
| | | | |
| --- | --- | --- | --- |
| | Eric Singer Project | Released: 1998 | |

ESP was: Eric Singer, Bruce Kulick, Karl Cochran, John Corabi
Featuring: Ace Frehley (Lead Guitar) on "Foxy Lady", Curt Cumo (percussion) on "Free Ride", Roberta Freeman (Backing Vocals) on "Never Before", "Set Me Free" and"Changes"

| | |
| --- | --- |
| Track | Vocals |
| Teenage Nervous Breakdown | Eric |
| Four Day Creep | Karl, Eric, John |
| Free Ride | John |
| Still Alive & Well | Karl |
| Never Before | John |
| Goin' Blind | Karl |
| Set Me Free | Eric |
| Changes | Karl |
| SOS (Too Bad) | John |
| Foxy Lady | John |
| Twenty Flight Rock | Eric |
| Won't Get Fooled Again | John |
| | | | |
| --- | --- | --- | --- |
| | DORO: Calling the Wild | Released: Sept. 16, 2000 | |
1. Terrovision
2. I Give My Blood (Dedication)
3. White Wedding
4. I Wanna Live
5. Kiss Me Like A Cobra
6. Love Me Forever
7. Pain
8. Give Me A Reaon
9. Fuel
10. Scarred
11. Now Or Never
12. Alone Again
13. Constant Danger
14. Burn It Up
| | | | |
| --- | --- | --- | --- |
| | Alice Cooper: Brutal Planet | Released: June 6, 2000 | |
Eric performs on drums on this Bob Ezrin produced album of Alice Cooper. The Brutal Planet tour lasted until Halloween 2000.

1. Brutal Planet
2. Wicked Young Man
3. Sanctuary
4. Blow Me a Kiss
5. Eat Some More
6. Pick up the Bones
7. Pessi-Mystic
8. Gimme
9. It's the Little Things
10. Take It Like a Woman
11. Cold Machines
| | | | |
| --- | --- | --- | --- |
| | Alice Cooper: The Eyes of Alice Cooper | Released: Sept. 23, 2003 | |
What Do You Want from Me?
Between High School & Old School
Man of the Year
Novocaine
Bye Bye, Baby
Be With You Awhile
Detroit City
Spirits Rebellious
This House Is Haunted
Love Should Never Feel Like This
The Song That Didn't Rhyme
I'm So Angry
Backyard Brawl
| | | | |
| --- | --- | --- | --- |
| | Stream: Nothing is Sacred | Released: Oct. 20, 1998 | |
Eric has a major part on this release. He has writing credits on nine of the ten tracks. Stream did release a second album, but Eric was not on that release.

Released October 20, 1998

1. Chasin The Dragon
2. Snake Eyed Moon
3. Rock Bottom
4. Camouflage
5. Fade to Black
6. Bed Of Fire
7. Blood For Gold
8. Far From The Maddening Crowd
9. Other Side
10. Still Believe (Touch Of A Stranger)
| | | | |
| --- | --- | --- | --- |
| | The Cult: Rare Cult | Released: Nov. 21, 2000 | |
Eric is one of many drummers featured on this Box Set for the Cult.

| | |
| --- | --- |
| | A six disc, 90 track box set of demos, B-sides, radio sessions and remixes |
| | | | |
| --- | --- | --- | --- |
| | Tribute Albums Appearances | | |
| | |
| --- | --- |
| Date | Album |
| Jan. 21, 1997 | Dragon Attack: A Tribute to Queen |
| April 7, 1998 | Forever Mod: A Tribute to Rod Stewart |
| Sept. 7, 1999 | Not the Same Old Song & Dance: Aerosmith Tribute |
| April 18, 2000 | Tribute to Van Halen: Runnin' with the Devil |
| July 25, 2000 | Bat Head Soup: A Tribute to Ozzy |
| Sept. 12, 2000 | Little Guitars: A Tribute to Van Halen |
| | | | |
| --- | --- | --- | --- |
| | Other Album Appearances | | |
| | | |
| --- | --- | --- |
| Date | Album | Artist |
| 1997 | Hangover | Gilby Clarke |
| 2000 | '99 Live | Gilby Clarke |
| 2002 | Swag | Gilby Clarke |
| 1987 | Live at Isstadion Stockholm | Gary Moore |
| 2004 | Asshole | Gene Simmons |
| 1985 | Ward One: Along the Way | Bill Ward |